Create Domain in CentOS Web Panel
CentOS Web Panel
CentOS Web Panel is a free Web Hosting control panel. It is mainly designed for quick and easy management of servers without using ssh console for every little thing. Lots of options and features are available in this panel. As the name suggest the panel can only be installed in CentOS 6, RedHat 6 and CloudLinux 6.
How to access CentOS Web Panel after installation.
Access url
Non SSL Login: http://IP-Address:2030
SSL Login: https://IP-Address:2031
We can use the same server root logins to log in to the panel.
How to create Domain Account in CentOS Web Panel
Log in to the Panel as we have mentioned before.
Click "User Accounts" in left menu then Click "New Account"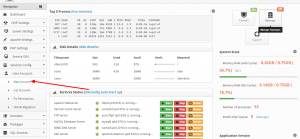 Enter Domain name (eg. example.com)
Enter username (make it similar to domain eg. example)
Copy random generated password from CentOS Web Panel to safe place or set your password
Select Package if you created previously or set it as default.
Enter email address in the email address field.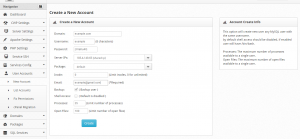 Facebook Comments