cPanel License Price Hike and Alternatives
Recently cPanel announced the cPanel License price hike and many people are in the verge of stopping the bussiness of hosting or looking for ways for cost cutting. Only hope which is widely accepted at the moment is to do the account migrations from cpanel to other control panel which is cheaper in cost. Here we will discuss the effects of this change and its alternatives as well.
License guide
You can see the Full Guide of licensing at the below link
https://cpanel.net/wp-content/themes/cPbase/assets/downloads/cP_Store_Licensing_Guide.pdf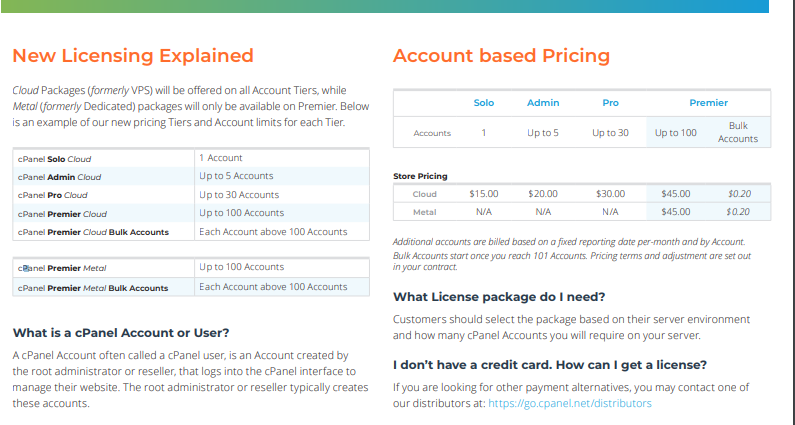 Lets just understand this price hike impact with the help of a example.
Suppose you are a hosting company who was having around 500 – 1000 channel accounts in one server under a VPS or a dedicated server. For the sake of our calculation I take the below assumptions.
Server Type : VPS 
No Of Accounts : 1000
OLD License Rate : $20 or $15 with some reseller providers like buycpanel.net for unlimited accounts 
Same server, with new license in effect : Rate will be around 
                                   : $45 (upto 100 Account) + 900*0.20 ( per extra account)
                                   : $45 + $180 
                                   = 225$                            
Paying such a huge amount for cpanel license for $1000 accounts will be a suicide and the rate of increase and no provision of having any unlimited license option.
All new license should go through this option and all old licenses will get some month's buffer time.
So essentially the hosting owners are looking for alternatives.
What are the Alternatives to cPanel
To be Frank there is no exact alternatives with all features similar to cpanel and that is a truth. Main issue in this is all hosting business is concentrated on cPanel so far and all plans were based on those as well.
So changing those will be a major disruption and that has already started showing its repercussions.
If you are planning to stick with cPanel for atleast for some clients, who is ready to pay more, then I will suggest to Keep one server in Cpanel and all others in other control panel like Directadmin and also start offering VirtualMin based hosting as well so that those who just need to host website can also get affordable hosting.
The above will be my suggestion for all those who try to provide hosting at affordable rate.
So Alternatives ?
So most considered alternatives available in paid sections are

1. Plesk – No suggestible as owned by same company and almost similar pricing structure.
2. Directadmin : Yes this is the only best option who is reaady to work for this change and has made a lot of changes by now itself. As new licenses started selling , they have increased the quality as well.
3. Interworx : I have worked on this a in a couple of servers but never became a fan of this panel and a bit confusing as well.
My Suggestion to those who are looking for alternatives is one and only Directadmin.
Reasons:
1. Monthly licenses are better than cPanel license.
2. Directadmin gives good support via tickets and via the forum.
3. Ready to work for more developments based on the cpanel Customer base
4. Low-cost Internal Licenses available for Datacenters

As soon as they heard of cpanel price hike, they started working on migrations steps and started working on new skin etc.
As a reference I will suggest you to take a look on the this Directadmin Forum Link
For Directadmin Installation , you can refer the other article written by me . Click here
If you are looking for Directadmin based Support you can contact us for help. You can contact us via Chat/Ticket/Phone using the details in the banner.
Special OFFER to Directadmin Server Managment.
If you purchase 3 months server managment plan, we will do the migration free for you. Contact us before ordering the service.
Facebook Comments